Henry at Bilton Grange School, Rugby - March 2005
All shows are published by Samuel French Ltd,
52 Fitzroy St, London W1P 6JR
who can provide perusal scripts, demo CDs,
piano/vocal scores, band parts and backing tracks.
HENRY the Tudor Dude
Song Demos
The life of King Henry VIII - England's most outrageous monarch - is accurately related in this rock and roll musical which has been performed by amateurs, schools and semi-pro groups, throughout the U.K. and also in such far off places as New Zealand, Zimbabwe, Saudi Arabia and Kenya.
Battles with France, the reformation of the church, umpteen executions and the tale of six wives are all brought to the stage by the Tudor Newsteam in this riotous extravaganza.
... your body will ROCK and your head will ROLL...
Here are all the main songs from HENRY THE TUDOR DUDE. Each song has a spoken introduction to explain how it fits into the show. These recordings are not suitable for use in performances.
There are full details of the show's cast and content here: Kjartan Poskitt Shows
There are details of the abridged version here: Henry The Tudor Dude: Abridged Version
HENRY THE TUDOR DUDE
CHARACTERS

A GOOD TIME FOR EVERYONE...
We all had so much fun with "Henry The Tudor Dude" and from the cards, letters and comments I've received, the audience clearly did as well!
It'll take some following!
Michael Stanley, Allerton School, Northallerton.
The author is reluctantly dragged on stage...


Feltonfleet School at the Epsom Playhouse 1998

NEWSREADER for TUDOR NEWS
REPORTER for TUDOR NEWS
LATIN CORRESPONDENT for TUDOR NEWS
KING HENRY VIII
EMPSON } Henry VII's tax collectors
DUDLEY }
EXECUTIONER
THOMAS WOLSEY
WAR CORRESPONDENT for TUDOR NEWS
PEG } gossiping palace sevants
MAUD }
JOAN the court clairvoyant
BOY HENRY Henry age 13
NANNY
WILL SOMMERS court jester
HOLBEIN the artist
PIETRO TORRIGIANO the sculptor
POPE CLEMENT VII
GUISEPPE The Pope's Henchman
CHARLES V King of Spain
PRINCESS MARY Catherine of Aragon's daughter
THOMAS CROMWELL
THOMAS CRAMNER
THOMAS MORE
WARDER 1
WARDER 2
DOCTOR
MIDWIFE
JUDGE

and of course the six wives:

CATHERINE OF ARAGON
ANNE BOLEYN
JANE SEYMORE
ANNE OF CLEEVES
KATHRYN HOWARD
CATHERINE PARR


Plus lots of wanna-be queens, soldiers, girlfriends, crowds, jolly Germans, courtiers...
Many doubles are possible. (Minimum cast about 15).

The music is available on a CD of backing tracks.
There are also full arrangements for

Piano/vocal score
Bass
Guitar
Drums
2nd keyboard

For all performance enquires please contact

52 Fitzroy St, London W1P 6JR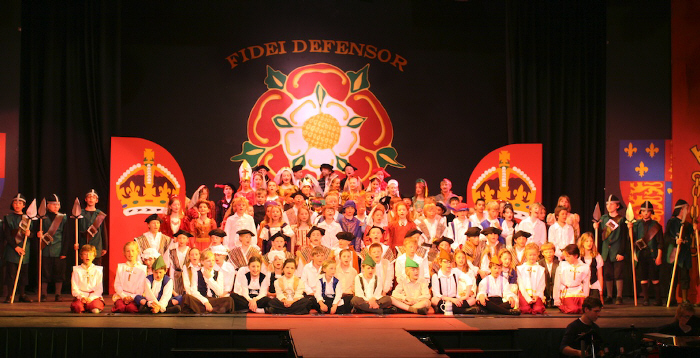 Henry at Ashville College, Harrogate - July 2008

Henry VIII Henry Viii Henry 8th show for children show for primary schools tudors play for primary schools history play horrible history play Henry the Tudor Dude musical songs script backing tracks backing tapes Anne Boleyn Catherine of Aragon KS1 KS2 Henry VIII show suitable for primary schools