SMITHY an apprentice reporter
SMIRCH } reporters for the Daily Slur
SMUTT }
THE BAKER
PROFESSOR MILLER a fairground showman
MIRANDA his daughter
THE KING
MADAM INQUISTOR the wanna-be queen
THE MANIKIN the evil changeling
THE TOWN CRIER
SMUDGE a photographer for the Daily Slur

Plus lots of chorus parts including villagers, messengers, guards, palace servants, crows, demons, enchanted toys and the hacks of the Daily Slur.

Note: The Professor and the King are male, Miranda and the Inquisitor are female. All other parts can be played by anyone. For smaller companies: the Baker, Manikin and Smudge can be played by one person. The Town Crier can be a voice off.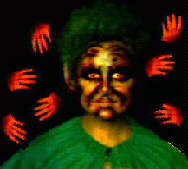 THE MANIKIN!
As seen in a 1996 production by
The Stewkley Players