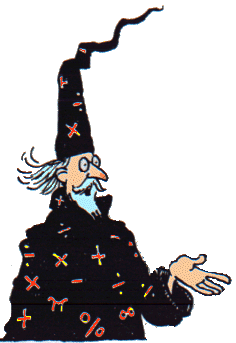 The Murderous Maths Bookshop


USA VISITORS!
The MM books are now
available from
FUN books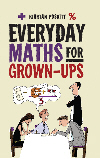 Everyday Maths For Grown Ups
Kjartan Poskitt's book to help adults with their sums!

Click on the cover to order
GET PERSONALLY SIGNED COPIES!
You can order any of KJARTAN POSKITT's books personally signed from The Little Apple Bookshop, 13 High Petergate, York, YO1 7EN # 01904 676103

Find out why this equation works and loads of other stuff in the NICEST maths book ever! Full of photos and cartoons - a perfect gift for anyone who likes maths.
Order David Acheson's
"1089 And All That"
If you were wondering which Murderous Maths book(s) to give as a present, please see our
GIFT SUGGESTIONS
You can order any of the books you see on this page - just click on a link and that will send you straight to the right page at Amazon.
If you've never used Amazon before, there are some details at the bottom of this page. Go to Amazon Details
Murderous Maths &nbsp
Murderous Maths Puzzle Books &nbsp
Other books by Kjartan Poskitt &nbsp
Killer Puzzles &nbsp
Horrible Science, History and Geography &nbsp
Books we like that pay for themselves! &nbsp

The Murderous Maths Books

The Murderous Maths Puzzle Books
Please send me SUDOKU
Join all the regular Murderous Maths characters in their own Su Doku book. It comes with full instructions for absolute beginners, tips for more advanced solvers and some diabolical puzzles to finish with involving prime numbers and letters! Puzzles from Michael Mepham (who does "The Daily Telegraph" Su Dokus), text from Kjartan Poskitt and Evil Gollarks from the planet Zog.


Other Books by Kjartan Poskitt
Newton and his Falling Apple
* New 2011 updated edition

Newton explained gravity, calculus and colours. He also stuck things in his eyes, beat up the school bully, had coin forgers hung drawn and quartered, upset the Germans, nearly burnt himself to death and could have been hung for being a heretic! A weird and wonderful story with fabulous pictures by Philip Reeve.

The Gobsmacking Galaxy

* New 2009 updated edition

What can you see in the sky?
What are the other planets really like?
How do you travel in space?
How could your children become older than you?
Where do stars come from?
What are red giants and black holes...
...the answers are all in here!


Everyday Maths For Grown Ups

Kjartan Poskitt's book for adults who have never understood how sums and numbers work!

It starts with how to add and subtract, works through multiplying and long division, then takes on everything else including fractions, decimals, percentages, speed, algebra, area and volume, conversions, measurements, probability and more!
Whether you want to help kids with school work, or you've got your own numeracy exam to pass, or you just fancy learning a few tricks to show your mates, this book has the lot.

"It's all here: enough maths to get you through any and every day, and perhaps help adults keep up with their kids - now there's a thought! Enjoy!"
- Johnny Ball

PANTSACADABRA
originally published as
THE MAGIC of PANTS
Unbelieveable! A book of conjuring tricks all involving pants with some of Philip Reeve's funniest ever pictures. Learn how to do everything from small intimate tricks to huge stadium illusions. For more details visit The Magic of Pants Site

PANTOLOGY


originally published as
A BRIEF HISTORY OF PANTS

Poskitt and Reeve return to explain:
What was the Pantasuarus? How did God punish the serpent in the Garden of Eden? What did spies use to send secret messages in World War Two? Visit the Eighth Wonder of the World and learn about the dreadful curse of the Ancient Egyptian Queen Parpunsnuiffet's wedding pants.

Typed out neatly by
Kjartan Poskitt
with pictures by
David Tazzyman.
"A feisty little treat!" -
The Daily Telegraph.
"Gloriously silly, totally impossible and wonderfully believable all at once" –
The Bookbag
URGUM THE AXEMAN

Follow the adventures of the Murderous Maths anti-hero Urgum along with Mungoid the Ungoid, Grizelda the Grisly, Hunjah the Headless and many others including man-eating plants, gorilla/budgie creatures and the barbarian gods!

"...side-splittingly, belly-wobblyingly, head-in-risk-of-falling-off funny!"
John McLay, book consultant.

Meet Urgum at urgum.co.uk
The Warp Maze

Possibly the strangest maze on the planet - if you don't believe us then have a quick look at the Warpmaze site to see why!
"...compulsive...readers of all ages will enjoy the challenge..."
&nbsp &nbsp &nbsp &nbsp &nbsp &nbsp &nbsp The Scotsman 19/10/2002
KILLER PUZZLES
Even as you're looking at this message, somebody, somewhere in the world is stuck on a Killer Puzzle!
The Killer Puzzle books were designed to keep the whole family amused for the entire holiday! Each book has its own master challenge which you'll only be able to complete if you solve every puzzle. There's no general knowledge required, just intuition and logic, which means that kids have as much chance as parents of getting the answers. Oh - and there's no answers, although Kjartan Poskitt does provide some extra hints on his website: Kjartan's Killer Puzzles Page
Sadly "The Attack of the Killer Puzzles" and "Decode the Deadliest Joke in the Universe" are no longer available in the U.K. ("The Attack" is available in the USA), but you can still be driven to insanity by these two:
| | | | |
| --- | --- | --- | --- |
| | KILLER PUZZLES: Find The Phantom of Ghastly Castle Each puzzle leads you round the rooms of Ghastly Castle, and you must make a map as you go. Finally you'll realise there's one room you can't get into and when you've decoded the goblin messages, you'll find you really CAN see the phantom! | | KILLER PUZZLES: Titus O'Skinty's Gruesome Game Show All your tv nightmares appear in one book! Solve the puzzles to avoid the maggot shower, the gunge, the messy waitresses and the bathwater to finally discover what your superb star prize is... |

The Alternative GCSE Guides
SADLY THESE BOOKS ARE GOING OUT OF PRINT, BUT AMAZON MAY BE ABLE TO GET YOU AN OLD COPY!
You'd be surprised at how many people are secret maths fans.
The amazing Icelandic singer BJORK says:
"In school I was the one obsessed with maths and insect collectors"!
OTHER MATHS BOOKS

Here are some that we really like:
"Why Do Buses Come In Threes?": A biggish paperback by Rob Eastaway and Jeremy Wyndham which will really set your mind thinking. It looks at all sorts of everyday things such as why do eggs roll in a circle, and why it can be drier to walk in the rain rather than run. Another great book to dip into for adults as well as younger people.
David Acheson's
"1089 And All That" This very smart little hardback explains all sorts of fascinating things including why this equation works! It's beautifully produced with lovely photos and cartoons, it gives a really satisfying work-out for the brain and will make a lovely present for anybody who likes maths.
| | |
| --- | --- |
| "Numbers - facts figures and fiction" An attractive and colourful book to get kids interested in numbers. A nice mix of well explained useful stuff and some happy trivia. Age range about 8 - 12. | Martin Garner's legendary book has probably brought more fun and interest to maths than any other (even after 40 years in print!) Generally suitable for maths addicts over 12. |
SOME HORRIBLE BOOKS
If you haven't come across the books by Nick, Terry and Anita then here's your chance. We just mention a few titles here, but if you follow the links you'll find all the others.
"The Body Owner's Handbook"
by Nick Arnold: Nick is THE science facts guy and this is one of his more recent titles in the Horrible Science series. Nick describes this as the world's first handbook for anyone who owns their own body!

"Shocking Electricity"
by Nick Arnold: A shocking book full of electrifying facts about everything from lightening to electric eels. Batteries not included.

"Microscropic Monsters"
by Nick Arnold: The title says it all, and with Nick you can be sure that every nasty and sordid little fact will be presented in the best possible taste with the worst possible jokes. Read it and shudder!
OTHER BOOKS WE LIKE
These books are just FUN and they pay for themselves! If you buy one and read it without bending it too much or spilling your dinner on it, you can then wrap it up and pass it on to someone else as a Christmas or birthday present.



WARNING!
True Murderous
Maths fans should
NOT READ page 506!

"Mortal Engines"
by Philip Reeve:

Our very own Murderous Maths artist has written this fabulous fantasy novel which took the book world by storm and won the SMARTIES book prize in 2002. It's set in the future at a time when cities have had to be mounted on huge wheels so that they can go around attacking each other. It's horrific, exciting, funny and a brilliant story.
Philip's sequels to Mortal Engines are also available:
PREDATOR'S GOLD
INFERNAL DEVICES
A DARKLING PLAIN


"MOLESWORTH"
by Geoffrey Willans and Ronald Searle: Quite simply, everybody in the Murderous Maths Organisation (Kjartan Poskitt, Philip Reeve, Tracey Turner and co) not to mention people like Tim Rice and David Wells think that think this is the funniest book ever written. It's all four of the original Molesworth books together including "Whizz for Atomms", "Down with Skool", "How to be Topp" and "Back in the Jug Agane". The speling is simply awfull mi dere, as ane fule kno. However if you're not laughing at the school boy world of St Custards in the first few pages, then you can always give it to someone who HAS got an absurd sense of humour. Funny from the age of 9 to 173 .
"Don't Put Your Finger in the Jelly, Nelly!"
by Nick Sharratt: For anyone with very little kids, this is the BEST one-minute bedtime read there is. It's a very funny idea (you put your finger through holes and see where it comes out) and Nick's bright drawings are wonderful. Quick, immensely satisfying, and it surely has the greatest title for any book in the whole of literature.

"Mathematical Puzzles of Sam Loyd"
edited by Martin Gardener: Sam Loyd was probably the greatest puzzle man ever born. This book has some of his best with the original chunky artwork. Sheer class! Have you tried The Sam Loyd Puzzle on our site yet?

"The Knowledge: Spectacular Special Effects"
by Diana Kimpton: If you've ever wondered how big films get their best effects, it's all in here. It's got everything from how two people can become a giant spider to the best way to make huge sticky lakes of blood. Some effects might cost you a few million pounds, but others you can do with a camcorder! Did you know that a lot of the spectators watching the Pod Race in Star Wars: The Phantom Menace were actually cotton buds?


LINKS:
To the complete Amazon book index
The Murderous Maths Books page
Murderous Maths Main Index Page
POSTAGE AND PACKING: Although Amazon often offer discounts on the usual book price, you have to pay a postage fee for your order. Therefore if you're thinking of getting more than one book, it makes sense to order them all at the same time and just pay one lot of postage.
PAYMENT: Amazon have a fairly easy and very safe system which involves you typing in your credit/debit card number.
RETURNS: If for any reason you're not happy with the books Amazon send you, return them in 30 days and they will give you a full refund. You can't say fairer than that!
OTHER QUESTIONS: Click any of the book links on this page to get to the Amazon site, and they have a big "help" section.
If you want to buy somebody their first Murderous Maths book, may we suggest: