The Pure Mathematicians proudly present...
The Fabulous Time Wasting TETRIS game!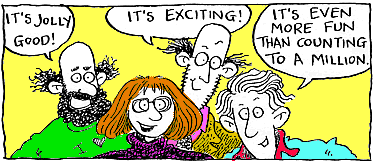 HOW MUCH OF A WASTER ARE YOU?
Check your scores:
0-10 Use the arrow buttons you fool.
10-100 Very good, no real time wasted at all
101-1000 Oops... you're starting to think this rubbish matters.
1001-2000 Oh dear. Thinking you're a bit nifty now eh?
2001-3000 Open the curtains, breathe in some air, get out more.
3001-4000 You need friends.
4001-5770 You need friends with advanced medical knowledge.
5780 You are Kjartan Poskitt
over 5780 You have just upset Kjartan Poskitt
Go on! If YOU'VE got hours to waste on something pointless then...
&nbsp
This amazing game was invented by Xin Yang
and came from
Dynamic Drive

The Pure Mathematicians RESEARCH LAB