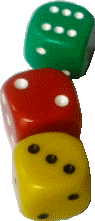 How to play:
You get 13 turns, and the idea is to get a combination of dice that will score in each white box. You're trying to finish with the highest possible score.
For each turn you get up to three rolls of the dice. On the first roll you use all five dice. For the second and third rolls just highlight the dice you want to roll again, to try and improve your combination.
If your total score in the top 6 boxes is 63 or more you get a 35 point bonus. (You have to average three of each number, so e.g. if you throw 4,5,4,4,1, then you would score 3x4 =12 in the 4's box. This same combination would only score 1x5 = 5 in the 5's box.)
A "Yahtzee" is when you roll all dice the same and scores 50 points. If you get two or more Yahtzees you can enter them in any unused box.
As you get near to the end of a game, you may well find you need to fill in a box with a zero score. One of the skills is to decide which boxes to give up on!

If you haven't seen this game before, just click around and then see which boxes you can enter a score into. You'll soon get the hang of it!