THE RINGING PANTS TRICK
How does that ring get on the string?
* Accompanying music is provided by the excellent Casablanca Steps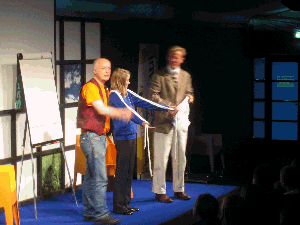 Mr Poskitt and Mr Reeve (holding a very large pair of white pants) perform "The Ghost's Pants" at the Edinbugh Book Festival, August 2006.

Trick Demonstrations

The book finishes with the stadium rocking finale song:



The Biggest Pair of Panties in the World!

The King Of Pants a demonstration of one of the simpler tricks shown in photographs.

Houdini's Pants a demonstration of a slightly cleverer trick in a cartoon strip taken from the book.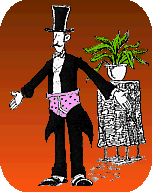 THE GHOST'S PANTS starring the Scholastic publishing team and two HUGE pairs of pants.

Contents Page
MAGIC OF PANTS LIVE! MARTIN LEWIS and his friends from ACES magic society in Worthing were so inspired by the book that they put together their own Magic of Pants show! You can find out more about them at Magic Martin's Website.